Indian civilization is one of the few that acknowledges the unrealized potential of the other half of the world. Along with a profound acknowledgement, it also places it on the highest pedestal and bows down to its unchallenged life nurturing ability. The nine days festival called "Navratri" celebrates the same. It worships woman as the underlying universal power by placing them as the supreme goddess of power, prosperity, and true wisdom.
Apart from female imperium, the period also signifies some more potent life sustaining cosmic and climatic developments.
Scientifically, Navratri falls at the two important junctures of climatic change. It is the time when earth shifts its route around the Sun causing climate change. The sharadiya navaratri commences at the beginning of winters while the chaitra Navratri signifies the onset of summer. Seasonal changes have a deep influence on the physical, emotional, and spiritual state of human beings. It is the reason why meditation, fasting, and socialization is recommended during these nine days.
Navratri is dedicated to the supreme cosmic power Durgaa Maa as all life-defining incarnations. She is the one that represents the three states of time: past, present, and future. She is also the one that represents the three forms of world: the transcendental cosmic world, the conscience mental world and the simple physical world. She is the epitome of primordial vibration OM and the true force of nature.
There are countless stories and anecdotes related to the significance of Navratri. The most popular belief is that during the fierce war between Ram and Ravan, Devi Sita worshipped Maa Durgaa for nine days to invoke power. Finally, on the tenth day, Ram was blessed with the power that killed Ravan.
Therefore, there is no better time than Navratri to sanctify your inner and outer sanctuary. All basic forms of Hindu worship: fasting, meditation, prayers, mantra chanting, and charity, work in this direction. You may choose the face you find most relatable to the divinity in you and around you and start working towards it during these nine days. Below given are few most prevalent divine incarnations that have inspired generations to devotion and deeds for world peace, inner peace, and final salvation from the cycle of life and death 'moksh'.
1. Durga Maa:
Her significance and supremacy stand above all forms of divinities. If you feel an inclination to her, Navratri is the time to pay your respects to her. You may begin by bringing-in her idol in your temple and start following the basic norms and rituals pertaining to her pooja. The rituals differ on a regional basis, however, how you may choose your way of praying as per your level of dedication and life goals. Hindu religion bestows full freedom to its followers, they may pursue their path at their own pace and choice. Just ensure that when you reach out to god you have a pure heart and a clear conscience.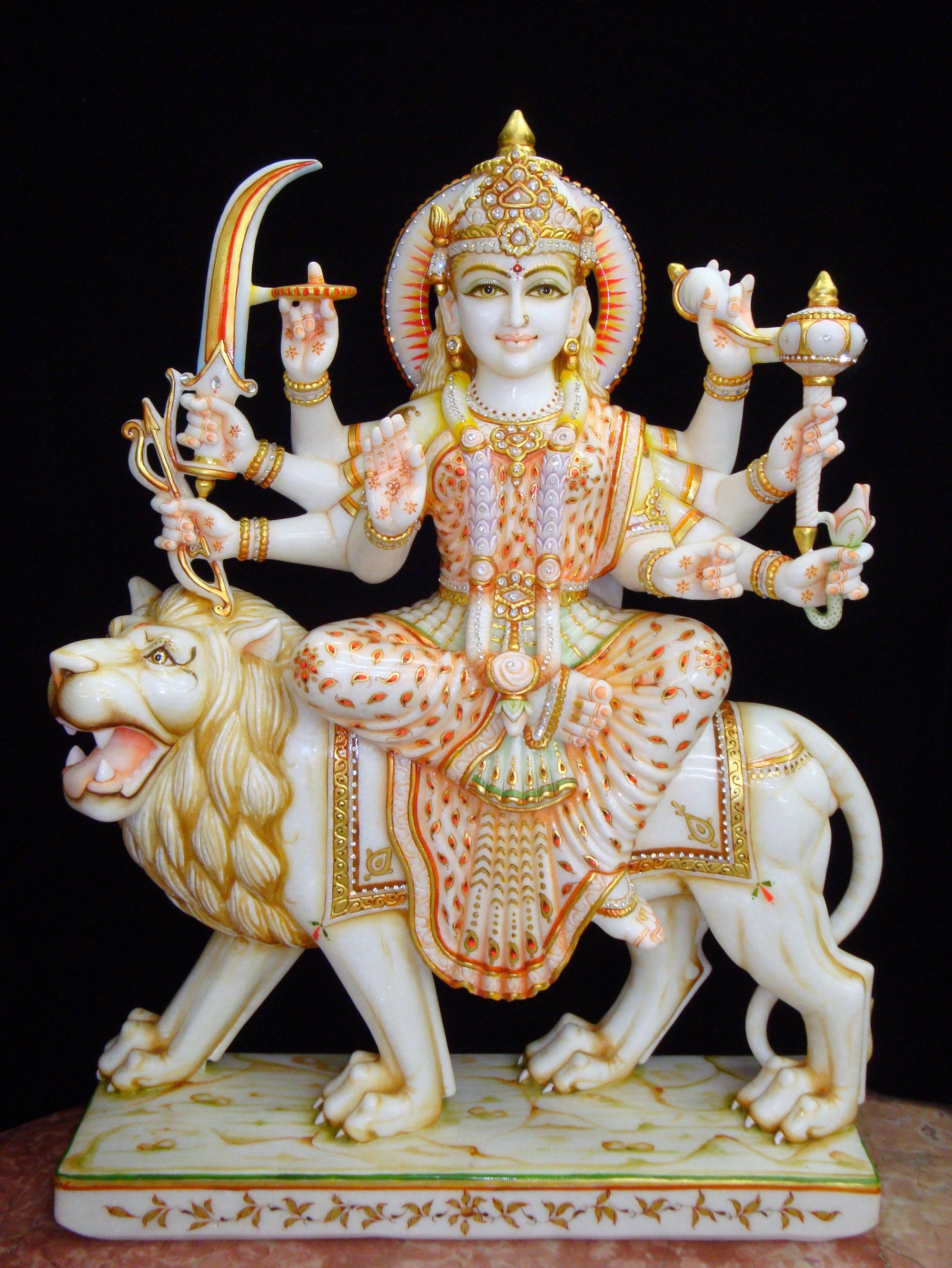 2. Ardh Nareshwar:
Ardh Nareshwar is the unified form of the leading male and female forms. It depicts the true meaning of marriage where two different beings become the better half of each other. Ardh is a Sanskrit word which means Half and Nareshwar means woman and her god. It is unison of Shiv and Shakti that sustains life across the universe. All those who identify their inner divinity with this fundamental need of human life must adopt the Ardh Nareshwar as their divine force. There are countless antique handicrafts shops in Jaipur, Delhi and other parts of India that offer most beautifully etched Ardh Nareshwar statues. Get the one that you find most relatable to your imagination of ardh nareshwar.
3. Laksmi and Saraswati:
The nine days of Navratri symbolize three purification cycles. Each cycle has three purification nights. The first cycle is represented by goddess Durga that cleanses the physical world. It is connected to detoxification of physical energies through fasting.
The second cycle of next three nights is embodied by Goddess Lakshmi. She takes care of emotional well-being of devotees and cleanses their astral body. In crux, fasting and meditation during this period opens up your emotional knots and distresses your mind.
The third and final cycle is controlled by goddess Saraswati. She takes care of the sub-conscious side of mind and helps in recognizing our true self. It directs one to detach from their pretentious outer shells and unleash the true spiritual form. Mantra chanting, prayers, and meditations are some of the recommended practices under this cycle.
What you choose is a reflection of your personal beliefs and spiritual needs. The Hindu world is open to all and Navratri offers an auspicious path to reach out to it. These nine days are not just for goddess devotees but for all who believe in any form of divine force be it Radha Krishna, Lord Vishnu, Hanuman or Lord Shiv.
Navratri also has a social aspect that directs devotees to get together and celebrate mother goddess. The Durga pandals in Bengal amd Bihar have people pouring from all over the world to pay their respects and embrace positivity through singing and dancing. Similarly, people in western and central India dance around the devi idol with hands and sticks i.e. garba and dandiya respectively. As for bringing their embodiments in your personal sanctuary, you can either put up a picture or statue in your personal temple. There are many traditional Rajasthani handicrafts traders that offer genuine marble Radha Krisha, Ardh Nareshhwar, Durgaa, Hanumanji statues. The bottom line is that prayers and meditations are performed for inner peace, so the statues need to carry a similar sense of tranquility and sereneness in them. Marble statues tend to have these qualities. For best choices, get in touch with marble murti wholesalers, marble gift items traders, and handmade home decor wholesalers. Jaipur happens to be one of the top recommended places for all such products, make sure to not miss that.