Living room is the heart that constantly pulsates with amicable activities, family time, laughters, and endless conversations. It also invites the onlookers to take a peek into the world you carry within yourself. Quintessentially, it needs to brim with an ambience that leaves a lasting impression on your visitors.
The vibes emanating from your living room set the mood and tone of the conversations and decisions bound to take place there.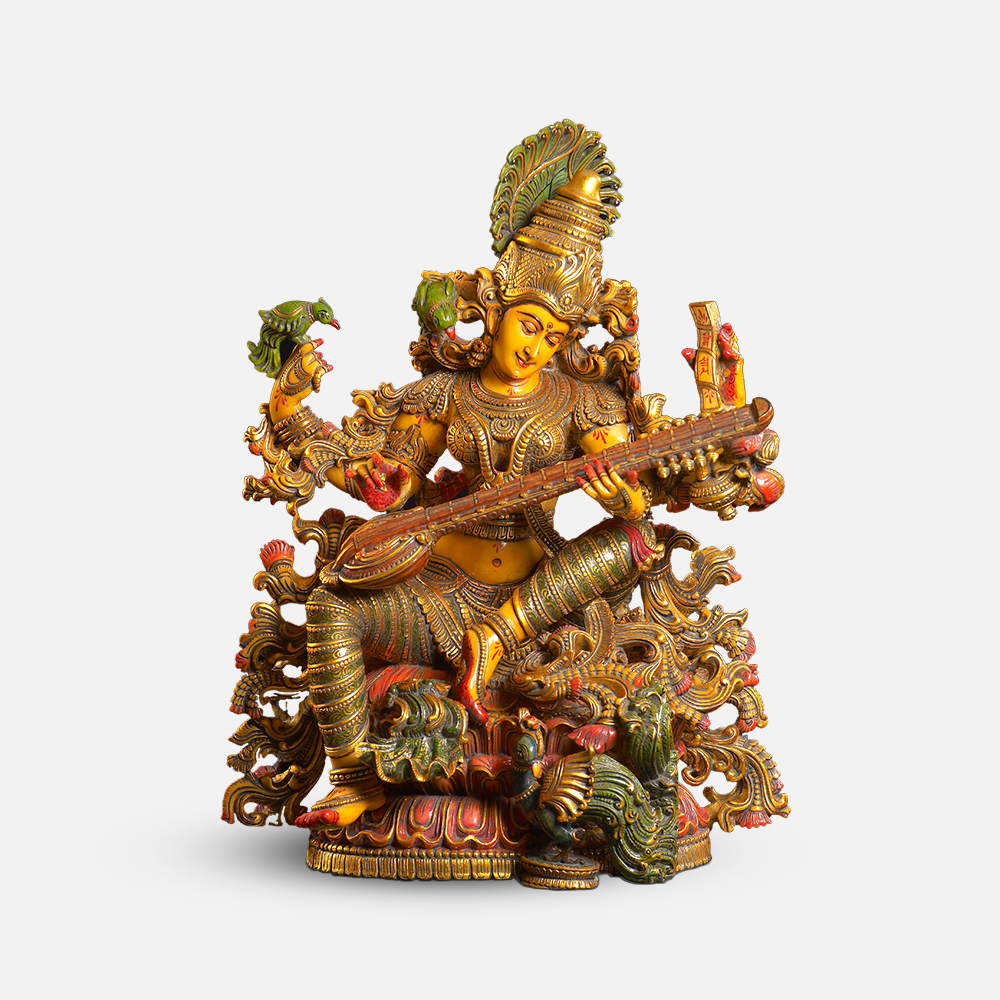 Many approaches can be adopted to uplift the undercurrent atmosphere of the room. But the ones we are suggesting here conform with major traditional prerequisites and in vogue interior design attributes. To get started, you may take cues from the traditional architectural sciences like Vastushastra.
The basic idea is to ensure free energy flow across the room and keep it clutter free. Most Indian households like to follow Vastushastra to decide the direction, color, orientation and furniture placement in living room. With that being pre-decided, the room decor still needs to beam with contemporary elegance.
The idea is to balance the traditional and modern element of the room without cluttering it with artistic pieces and decor entities. To simplify the dilemma, we chose some rare vastu related traditional products especially recommended for living rooms. What's more, all these have been revived with a modern touch to fit and fuse in every place without overwhelming the eye.
1. Elephant Figurines: Elephants have been stated in Indian scriptures as a majestic animal species that symbolizes wisdom, strength, integrity, prosperity and positivity. It is specifically recommended for living rooms. Marble elephant figurines are quite in rage at present, if you browse the Indian market specially the traditional Rajasthani handicraft market or home decor items segment in Jaipur, you will find plethora of options. You can choose from metallic, marble, granite, silver and gold figurines.
2. Divine Art: Cultures and societies all over the world suggest divine artifacts to bring positivity and prosperity in homes. If you dwell a little deep into Indian culture, you will discover an ocean of divine artifacts and statement pieces in this segment. Beginning from the Ganesha statues the list of prosperity symbols goes down to Radha- Krishna, Buddha, Shiv-Parvti, Vishnu, Lakshmi and hundreds of other deities depending on region and religion.
If you are looking for more easily available options, you will find selections of marble, brass, copper, and bronze statues. There are many antique handicraft shops in Jaipur that trade online and offline all over the world.
In case, you are an art connoisseur, you may purchase statement pieces from premium handicraft stores like Kuber in Jaipur.
3. Paintings: While decor items and divine statues fuse well with corners and shelves, walls and ceilings demand a different artistic approach. In order to keep up the spirit of the room, it is advised to go for bright colored paintings. While weepy, war and tragedy depicting paintings are a big no no, traditional art work like Tanjore, Miniature, Mughal, etc get a big nod from Vastu and psychological researches across the globe.
Indian paintings are specifically known for their captivating color combinations that celebrate life in an elaborated framework. While the miniature paintings are about intricate detailing and finest brush strokes, the Tanjore paintings bring the divine stories alive in vibrant tones. You may take your pick as per your taste, interior design, and cultural preferences. Living room atmosphere and vibes hold a higher significance in interiors because of the activity level involved with it. It cannot and should not be overlooked for it can influence your family ties and inner peace to some extent. The ideas discussed above are not restricted to Indian culture and perceptions, however, as the oldest civilization it does holds the roots of most architectural studies and sciences. However, what you choose and how you execute any of these ideas will be fruit of your perception and artistic vision.