4 Decor ideas to adorn pooja rooms with class and elegance by Kuber Jaipur, and experience Art with Soul
A pooja room is more than just a place where you pray, it embodies peace, righteousness, and purity. The corner where you can peacefully hibernate and reflect, and feel closer to the holy divinity.
Let's begin by asking ourselves- Where is it that we feel the safest when in pain? Where is it that we feel the happiest when in delight? Yes, the very place where we bow down and worship, or as we like to call it: The Pooja Room.
Pooja room has a special place in Indian households – it's the sanctum of our humble abodes. From early morning prayers to evening hymns, not a day goes by when we don't devote our unperturbed respect to the almighty right within the confines of this space.
Needless to say, a place of such huge significance in our lives deserves the best. So it is essential that the Décor Items that add up to the sanctity of the place are arranged in a way that brings out the element of peace while still maintaining the serenity and calm.
Join us, as we share with you just the right tips and tricks that will help you rediscover the sheer magnificence that lies within these four walls that you have been missing out on all this time
Avoid Cluttering The Room
Now before we let you in on the secret on how to uplift the decor of your pooja rooms, it's essential to lay the primary groundwork which is cleaning. Make sure that the pooja room has a serene ambiance which is why it would be better if you refrain from cluttering. It's time you rediscover the open spaces that had been veiling behind paraphernalia such as images, idols or handicrafts. All of it creates too much visual distraction which can affect the calmness in the area. Also, you should only store pooja related items in the room. Be sure to check out our playfully curated range of hand-made home décor pooja room essentials.
Incorporate Marble
Among all the natural stones available, marble happens to be the most elegant and luxurious looking one. In addition to that, it brings richness to the decor and adds to the soothing touch in any space, making it an ideal choice for the pooja rooms. It's also the versatility of this stone that makes it all the more beautiful; it can be used in so many different ways. You can use it for crafting a mandir, matching floor, pedestals in case you want a small pooja room, but most importantly the idols.
Using idols carved out of marble in the pooja room not only elevates the environment but it also brings with itself certain cosmic connect. Indeed a redefining touch to bring back the magic of the Pooja room. You can browse through our collection where you'll find a wide range of supreme quality products such as Ganesha Marble Statue, Radha Krishna Ras, Guardian Nandi, Laxmi Maa on Lotus, Sadashiv Shiva and all the deities.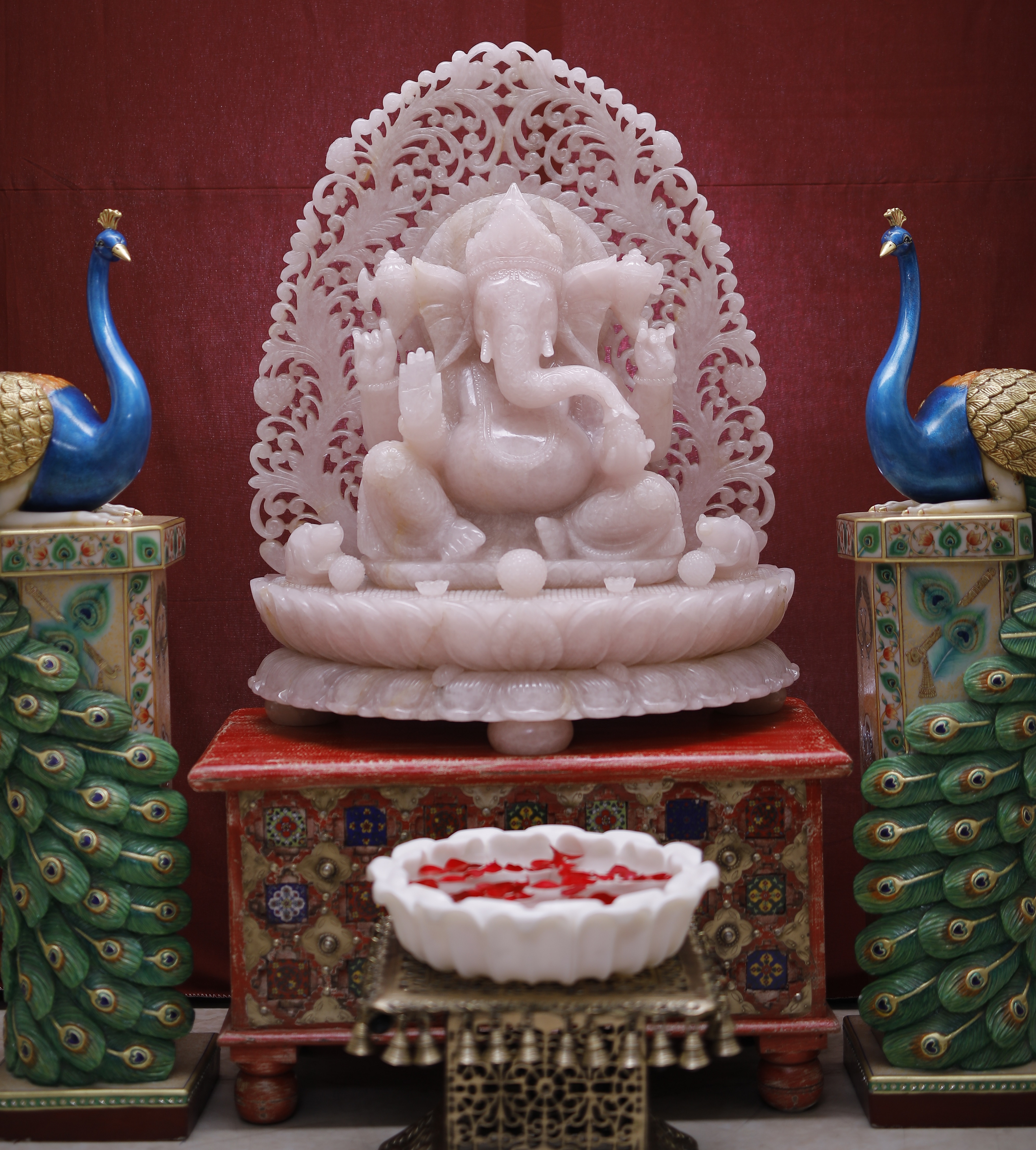 Use Traditional Decor
Figurines, ornaments, and opulent have an unmatched significance in the Hindu culture. From dynastical heirlooms to primordial idols, everything that is casted in stone or metal has a certain traditional value to it. Using similar accessories such as brass lamps, plates, and bells in pooja rooms will not only enhance the look but fills the entire atmosphere with energy.
However, you should avoid going overboard and ensure that it does not overpower the room with a metallic shine. Instead, opt for subtle elements such as decorative Brass Décor Items which can be used on the door or you can also use metallic paint on a small section of the wall in order to balance the energy in the area. Don't forget to take a look at our collection of traditional handicrafts for the pooja room decor.
Add The Elements Of Nature
Items that have an earthy and rustic feel can be used for pooja room designs as they bring warmth and beauty to the area. Carved structures add to an old-world charm and are reminiscent of the motifs and sculptures that were used in temples in the olden days. It revives the soul of the pooja rooms so to speak, helping you reconnect with thy supreme power. The saying goes – Less is more, and it finds incredible relevance while decorating a place such as the pooja room. Keep it simple and elegant and for everything you need, there is Kuber Jaipur.