Begin this festive season with Kuber Jaipur's exclusive Ganesh idols and divine collection
Revered before starting anything new and the herald of good luck, Lord Ganesha is the one who eradicates all the difficulties and hurdles from our lives. The beloved elephant God is worshipped by devotees all across the globe and since Ganesh Chaturthi is just around the corner, let's bring home the perfect Ganpati and seek his blessings.
Ganesh Chaturthi, also referred to as Vinayaka Chavithi, is a highly auspicious Hindu festival that is celebrated for 10 days with great fervor across the country. The festival is observed in the Bhadrapad month according to the Hindu calendar which usually comes in late August to early September. The fourth day of the lunar cycle marks the birthday of Lord Ganesha. There is a great mythological story behind this day which actually accounts how Lord Ganesha was born and re-born again after some tremendously intense series of events. So let's take a look at the significance of this day and how it is celebrated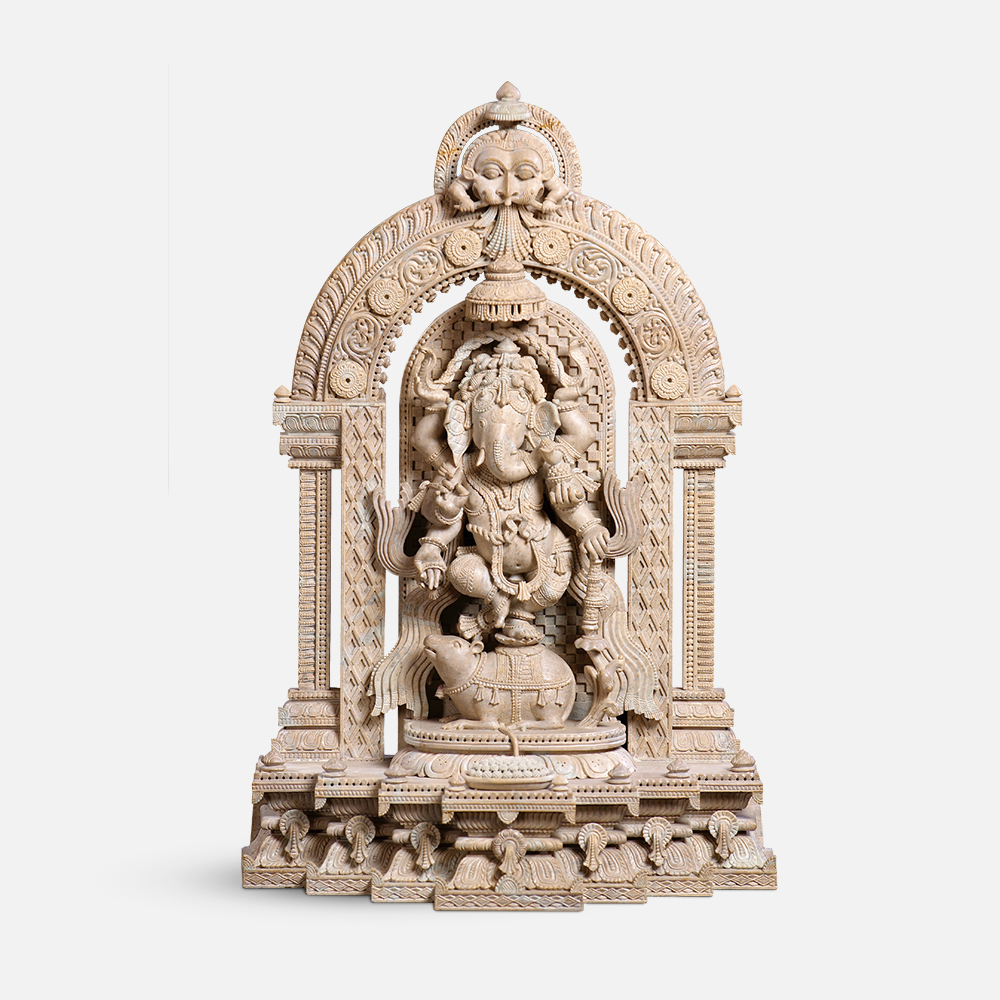 The significance
A popular belief dictates that devotees who pray and worship Lord Ganesha can fulfill all their desires and dreams. Hence the ultimate significance of Ganesh Chaturthi for devotees who pray to him is set free of sins and it leads them on the path of knowledge and wisdom.
If we ruffle history pages, we would find that the festival has been there since the time of Chhatrapati Shivaji Maharaj but it was only during the Indian freedom struggle that popular leader Lokmanya Tilak completely changed how Ganesh Chaturthi was celebrated and made it a grand public festival instead of a private celebration where people from all sects of the society can come and enjoy, pray and be together.
Over the last few decades with the growing environmental concern, people have started observing Ganesh Chaturthi more responsibly, or in a more environmentally friendly manner. This includes– getting marble Ganesha idols accompanied with traditional Indian handicrafts that can be reused again and they even look excellent in our homes. Kuber Jaipur has a great collection of marble idols and Indian decor products that can adorn your Ganpati Pandals and add to the beauty and the divine ambiance.
The celebration
The excitement of this grand festival sets in days before the actual occasion actually begins. Craftsmen start preparing idols of Ganesha in different shapes, poses and sizes.
The Ganesha idols are installed in beautifully decorated 'pandal' at homes, temples or localities. The idol is then decorated with garlands, flowers, colors, and lights. A traditional ceremony called Pranapratishhtha is conducted where a priest hymns mantra to invoke the life in the diety idol. This is then followed by Prayers to Ganesha's idol in 16 different ways, each with a specific significance. People celebrate by singing or playing religious songs, dancing to the local drum beats, and by lighting up fireworks– all of which add to the grand festivities.
Ganesha Idol
Idols play a huge role in celebrations as they are the centerpiece of attraction for people, visitors, and passersby. In fact, no celebration ever is complete without the idols. But since it's the pandemic environment, celebrations are most likely to take place inside our houses. The puja and sthapana will be held inside, so we bring you the very beautiful Mangal Murti Ganesh. An intricately designed and crafted marble Ganesha idol that will add to the beauty of this occasion even more. So this season, let the festivities begin and let the divine charm mesmerize your entire surroundings with Kuber's finest quality artifacts and idols, because we bring you art with soul. Be sure to check out our divine collection for more of such marble handicrafts.